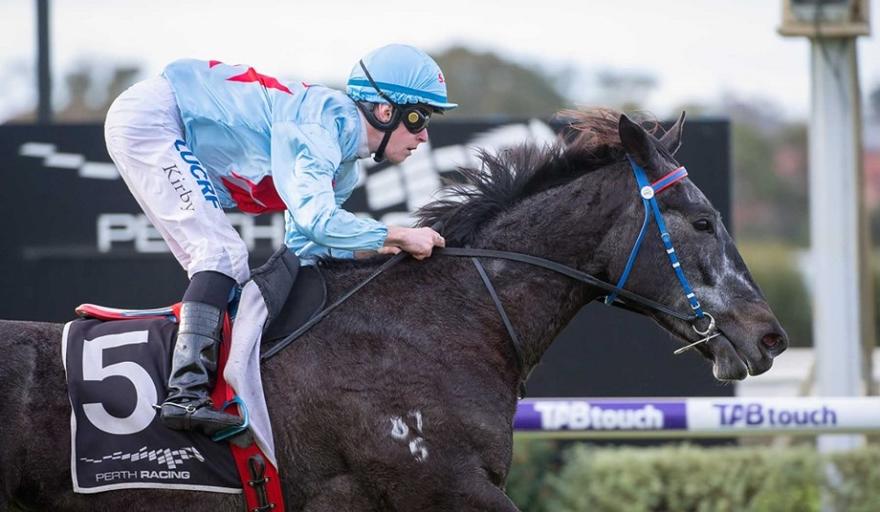 LORDHELPMERUN wins the Ilario Spagnolo 50th Birthday Hcp for SJ Wolfe Racing
We start the Weekend Wrap-Up with racing in the west which saw Wolfe Racing shine when LORDHELPMERUN and Brodie Kirby saluted for a brilliant win on rain effected ground to the cheer of favourite backers.

The soft going was also to the advantage of the Gangemi Racing prepared SAMIZDAT who made it three wins from four starts when flying from the back of the field while Danny OBrien Racing scored a win with CANT BE DONE.

Adelaide trainers had a good day out and it started when SUPER SWOOP and Caitlin Jones did just that, with a well-timed run around the field to score in impressive fashion for Leon Macdonald Racing. The performance was quickly followed up from the Richard Jolly Racing team with $21 chance BAYOU taking all the short cuts to deliver Kenny Lau his first metropolitan success. CANFORD ensured Ryan Balfour remained in the winners stall with a strong come from behind win over 1600 metres.

A sunny Sydney got off to the perfect start for Snowden Racing when ENFORCEMENT made it two on the bounce for the campaign, once again leading all the way for the son of I AM INVINCIBLE. Snowden also notched up more wins on Saturday with MY DEMETRA, SATIN SOCKS and SECRETLY. Ron Quinton had an impressive win with SEEL THE DEEL while John Thompson Racing claimed a win with EL COYOTE.

In the Sunshine State it was Steve ODea making an impact when JEWELIANA remained undefeated bringing her debut win at the Sunshine Coast to the $75,000 event at Ipswich once again under Matthew McGillivray. The very next race saw Chris Munce bring undone EF TROOP with his mare SMARTYPY who made it three wins from her last five starts. Morton Racing scored a win with MAN BOOKER and Stephen Lee Racing scored well with SORNJA.

STREET SHEIK was able to put two consecutive wins together after a run of placings for Patrick Payne when saluting at Sandown while the Darwin Carnival heats up so does Gary Clarkes team that saw COUNT OF ESSEX score in the first while Neil Dyer did the say with MULK later on the program. Dick Leech Racing scored an amazing win with AMERICAN MUSCLE and Jon OConnor Racing takes first place with MAGIC PHANTOM.

Congratulations to all our overseas winning trainers; Glen Kotzen and Sean Tarry in South Africa - and Stephen Gray in Singapore.

Well done to all who prepared winners around the globe across the weekend, may it continue!

Image: Western Racepix