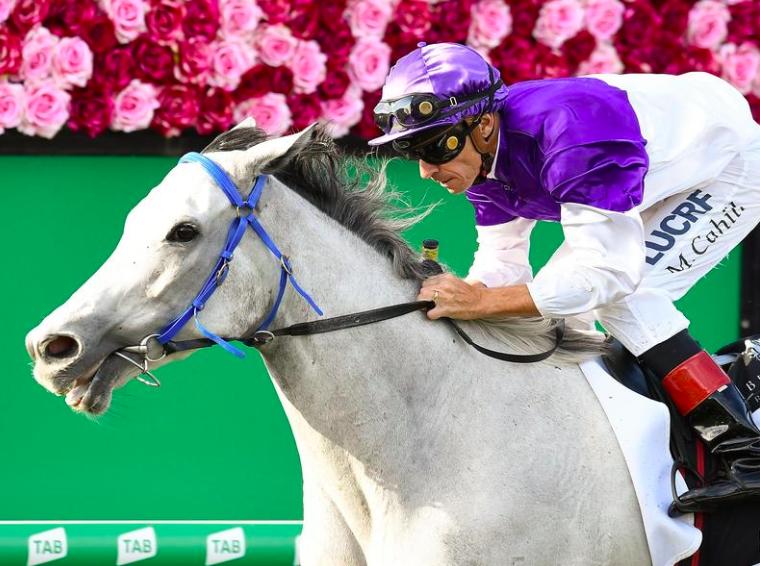 THE CANDY MAN claims the Group 3 Premier's Cup for BSB Racing
The wins kept rolling in for cult figure THE CANDY MAN who gave Barry Baldwin another reason to celebrate, this time seven wins on the trot in the Group 3 Premiers Cup at Eagle Farm on Saturday.

Snowden Racing was also to the fore beginning when STRASBOURG notched the second win of his career thanks to a great Tommy Berry ride in the BRC Sires Produce. Luck also went the way of MILITARY ZONE in the lucky last.

Grey horses and winning sequences went hand in hand this weekend after the Griffiths Racing trained FIDELIA made it four on the bounce when coming from last to win two races at Flemington in two weeks!

Danny O'Brien Racing scored a double win with FABRIC and ORDER OF COMMAND while Ron Stubbs Racing had an amazing win with SPUNLAGO.

Richard and Chantelle Jolly became familiar with the winners circle after GO THE JOURNEY led from barrier to box for a well deserving win while just one race later it was Caitlin Jones again, this time on REGALO DI GAETANO winning at odds of $15.

David Jolly Racings ROCCABASCERANA had a great run and scored first place while Patrick Payne Racing claimed a win with STREET SHEIK and Jon O'Connor Racing followed suit with AKKACAN.

A big shout out to the team at Harvey Racing who also hit the scoreboard in Perth when FINALLY FRENCH and Troy Turner made it two on the trot. Gary Clarke was also preparing his team for the upcoming carnival in Darwin on the other side of the country when PATRIOT DAY again showed them a clean set of heels.

EYE ART claimed a win for Lindsey Smith Racing and CRUZE scored with a great finish for Barry Lockwood Racing.

Sunday in Tasmania was happy hunting ground for Adam Trinder, he left with the last two winners after THINEISTHEKINGDOM bolted in by five lengths while the margin wasnt so big when GLIFI NIFIN ARKIS saluted in the last.

A job well done also to Keith Dryden on the win of SUNEEZE in smart fashion at Canberra when racing on Friday.

Well Done to all our overseas winning trainers; Sean Tarry, Brett Crawford and Adam Marcus in South Africa, Dan Meagher and James F Peters in Singapore and Fraser J Auret in New Zealand.

Congratulations to all who trained a winner.

Image: AAP