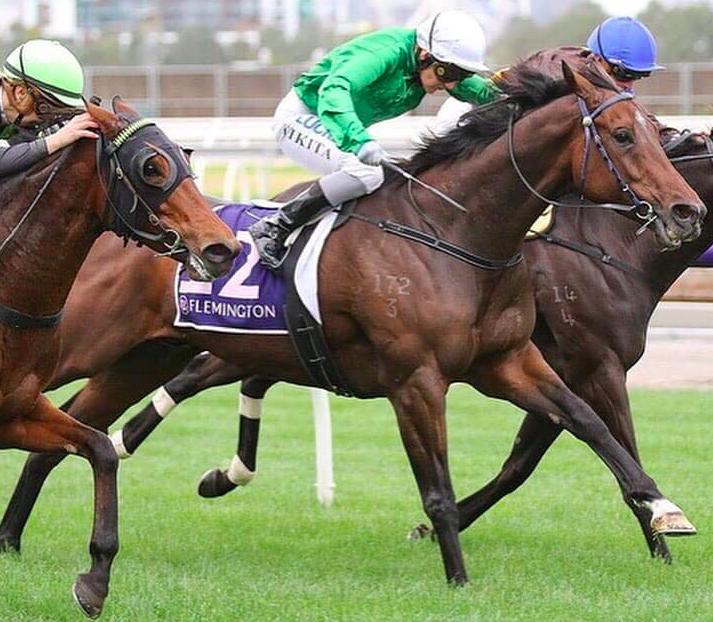 SUNDAY PRAY claims victory in a thrilling three-way photo finish for Moloney Racing
The winning run for Moloney Racing continued this weekend when again at big odds, the famous green and white saluted at Flemington when SUNDAY PRAY won in a thrilling finish.

The most impressive win of the day however may have come from the Griffiths Racing trained FIDELIA who flashed from the back of the field and looks awesome in winning the Rogan Josh Handicap. Danny OBrien Racing scored a double with MOLDOVA and ABSOLUTE FLIRT while Brideoake Racing scored a victory with PRINCESS JENNI.

There was no stopping Snowden Racing who notched an interstate double, firstly in Sydney when SHES FURLINE was back in the winners circle and then STRONGER for Blake Shinn who notched his third win in just seven starts at the Gold Coast.

The wins didnt stop there in Queensland starting when Barry Baldwins cult figure THE CANDY MAN was able to win his fifth race in nine starts. Matthew McGillivray teamed up with Darryl Hansen to get the job done on PENNINO to win the $140,000 Gold Coast Guineas. COLDSTONE had a strong finish for Gollan Racing along with LE PALMIER who had an amazing win.

Meanwhile up North, Gary Clarke saddled up NEAT FEAT at odds of $18 in the $100,000 Pioneer Sprint in a thrilling race!

The winning run of Proven Thoroughbreds continued after BROOK MAGIC did the business while Kym Waugh waited to the last to burst out with FUCHU who was given a great ride under Robbie Dolan.

The Pearce Brothers got familiar in the winners circle at Ascot when MONEY MAHER and SUPERIOR SMILE got the job done, the later having to share the prize. More 2yo success for Paul Jordan, this time with flashy grey filly SPECIALISM while Neville Parnham and son Steven teamed up with HOBOKEN for the fourth win of his career.

Well done to Team Brunton on the win of STEP THE PEDAL, career win ten on Sunday.

Congratulations to all our overseas winning trainers; Nigel Tiley, Stephen Gray, Brett Crawford, Sean Tarry, Mike De Kock and Glen Kotzen.

Congratulations to all who found the winners circle.