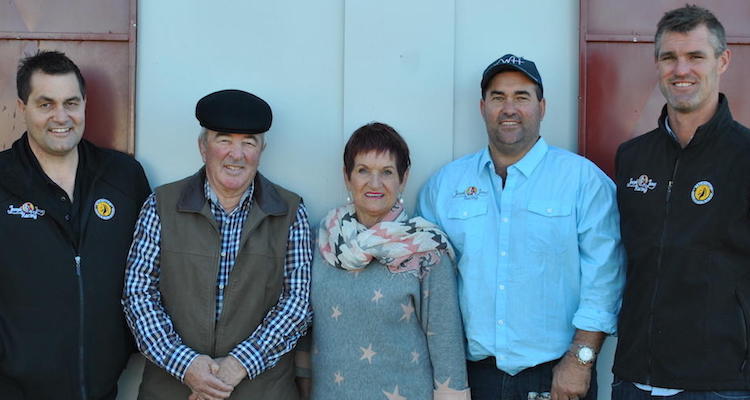 A Family Affair - Canberra's Newest Training Trio!
A warm welcome to Canberra's newest training trio - Joseph, Jones & Jones!

After six years "off and on" as foreman to Barbara Joseph and Paul Jones, son and younger brother Matt Jones has officially joined the family team as a third co-trainer.
Matt has a passion for racing and is a highly experienced horseman, bringing his own set of skills to the partnership. To be able to pull on three different sets of skills puts Joseph, Jones & Jones in a formidable position, the sum of their experience will undoubtedly enhance the operations of the stable to the benefit of the horses and their owners.


The family partnership is a dream come true for Barbara who has been training for more than 40 years.


"It's great for me, this is what I've wanted to happen for years and it's a great plan going ahead," Barbara said.


"It's sort of fulfilled my dreams getting them both in there." Barbara also knows it will take some responsibility off her today and cement her legacy in the racing industry for the future. As every mother would be Barbara says "I'm very happy about it and I'm sure they are too."


Barbara has been referred to as "one of the trail-blazers for women in the racing industry". Since being granted her licence in 1975 she became the first female trainer to win the Group 1 Doncaster Handicap with Merimbula Bay. This highly regarded and respected woman has also been the recipient of an Australian Sports Medal for her outstanding contribution to thoroughbred racing in Australia and in 2004 was made an Honorary Ambassador for Canberra by the Chief Minister Jon Stanhope for her integrity, professionalism and selflessness in serving the Canberra community.


Paul obtained his own training licence in 2009. With a very small team of horses, he had his first runner in November 2009 and on 6th January 2010, Universal Boy became Paul's first winner (at Randwick no-less). At the commencement of the 2010-2011 racing season Paul and Barbara formally joined forces in a training partnership.


The stable has just had it's strongest season to date with much success both on and off the track. Former Kiwi galloper Almost Court notched his sixth win since joining the stable to secure the 2018 Listed Canberra Cup, most certainly a stable highlight. The gelding now with his sights set on some bigger races in September and should the stars align, the Caulfield Cup.


The Joseph and Jones training operation has also recently expanded to include the Sapphire Coast where it will soon host up to 15 horses in training. This expansion will compliment the existing JJR facilities at Thoroughbred Park and the agistment, spelling and pre-training facilities offered at their 3000 acre Bombala property.

The newly formed trio are going from strength to strength. We wish them well for continued success on the track.