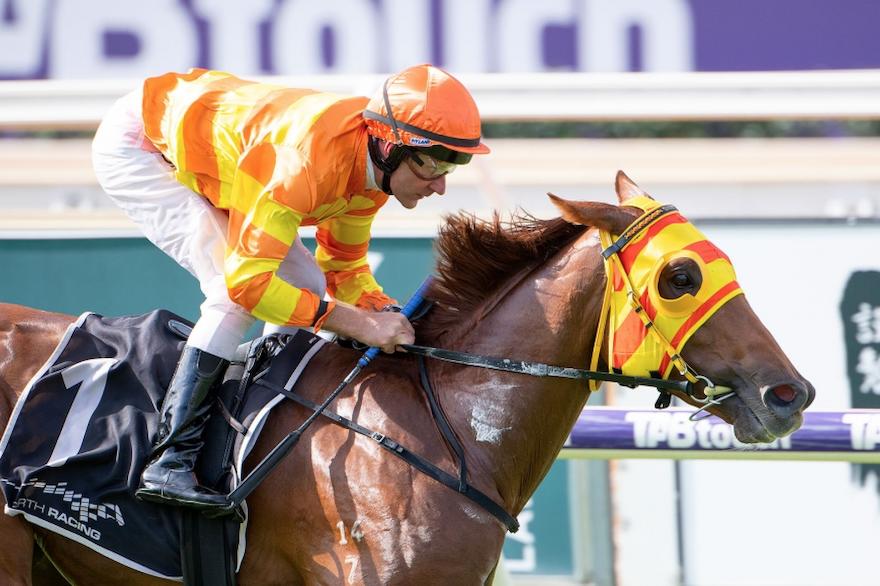 GEMMA'S SON GIVES DAVID HARRISON ANOTHER WIN
John Thompson was able to turn his stable star DREAMFORCE into a well deserving Group 1 winner when DREAMFORCE showed his dominance in beating The Bostonian and Te Akau Shark in Saturday's Group 1 George Ryder Stakes at Rosehill Gardens.
Sydney's program was also a successful one for Snowden Racing when promising I Am Invincible filly CALIFORNIA ZIMBOL was too good for rivals in the Listed Darby Munro.
Racing at Ascot was super impressive with many of our clients finding their way to the winner's circle. David Harrison kicked off the day's proceedings with Written Tycoon gelding MEDIA BARON scoring his fourth win from 6 starts this year, while stablemate GEMMA'S SON (pictured above) continued his winning ways adding the Listed Perth Stakes to his young and impressive resume. GATES OF BABYLON got the job done for Pope Racing, while Daniel and Ben came away winners when CLIFFS OF COMFORT made it two starts for as many wins when leading all the way in stylish fashion under Joseph Azzopardi. Neville Parnham enjoyed Stakes success when WRINKLY won the Grandstand Cup at start 50 and now has nine wins and over $500,000 to his name, while Steve Wolfe didn't miss out when EURASIA saluted to the joy of odds-on punters. A convincing win from BLACK SHADOW for Jim Taylor and his team to finish the day.
Barry Lockwood was first on the board at Eagle Farm on Saturday with stable newcomer WATCH THE CAT picking up his first win under Lockwood's training. Sunshine Coast based Garnett Tayor looks to have a nice type on his hands after BOLD STYLE fought off challengers when backed from $71 into $26 for a big win! Now a winner of two of his four starts. Congratulations to new miStable client, Stuart Kendrick for his win with STAR OF MICHELIN.
Victorian metro racing made its way to Mornington and the classy field in the Mornington Sires was taken out by Robbie Griffiths trained GLENFIDDICH who turned the tables on his rivals from Adelaide a fortnight earlier. At Morphettville Paul Gatt enjoyed success steering home winners for both Jon O'Connor with GREAT LEVELLER and POYSED TO REIN for Richard and Chantelle Jolly.
Sean Tarry was hard to beat at Turffontein picking up 4 wins for the stable. UPCLOSEANDPERSONAL, DARK SONG, AL MUTAWAKEL and TOWARDS THE SUN were Saturday's stable superstars. All smiles from Adam Marcus after scoring a double at Durbanville with WINTER SHADOW and AL'S MY DADDY, while Brett Crawford also enjoyed success with HEAVEN'S EMBRACE.
A shout out also to our Singapore winners. A double for Dan Meagher Racing with RED CLAW and LIM'S SAMURAI, and Lee Freedman with stablemates MR ALEJANDRO and OCEAN CROSSING. Stephen Gray was also in form with LIM'S SPIN breaking through with maiden win.
Congratulations to all our clients who had winners over the past week!
Sunday 22nd March, 2020
| | | | |
| --- | --- | --- | --- |
| Steve Wolfe | EURASIA | R5 | Bunbury WA |
| Darby Racing | ONCE WERE LOST | R3 | Bunbury WA |
| Darby Racing | MR TICKETS | R2 | Kilcoy QLD |
| Chris Munce | GALVARINO | R3 | Kilcoy QLD |
| Kelly Schweida | AHEADOFHISTIME | R5 | Kilcoy QLD |
| Matthew Brown | RAISE 'EM UP | R1 | Bairnsdale VIC |
| Richard Laming | SHOOT FOR COOMAAH | R6 | Bairnsdale VIC |
| Robbie Griffiths | SAVEYOURENTHUSIASM | R8 | Bairnsdale VIC |
| Paul Preusker | MINOLA | R4 | Ballarat VIC |
| Australian Bloodstock | ZEFTABROOK | R1 | Muswellbrook NSW |
| Luke Morgan | FUSSDINADO | R3 | Muswellbrook NSW |
| Rodney Ollerton | ONEMORE PRINCE | R4 | Muswellbrook NSW |
| Byron Cozamanis | THE MASTER | R1 | Port Lincoln SA |
| Shylie Williams | AVORA SUN | R2 | Port Lincoln SA |
| Shylie Williams | HANK'S NEPHEW | R6 | Port Lincoln SA |
| Fraser J Auret | CAGE PHYTA | R4 | Tauherenikau NZL |
| Fraser J Auret | ITALIAN LOVER | R6 | Tauherenikau NZL |
Saturday 21st March, 2020
David Harrison

MEDIA BARON

R1

Ascot WA

Brett Pope

GATES OF BABYLON

R2

Ascot WA

Daniel and Ben Pearce

CLIFFS OF COMFORT

R3

Ascot WA

David Harrison

GEMMA'S SON

R5

Ascot WA - LR PERTH STAKES




Neville Parnham

WRINKLY

R7

Ascot WA - LR GRANDSTAND CUP




Steve Wolfe

RED CAN MAN

R8

Ascot WA

Jim P Taylor

BLACK SHADOW

R9

Ascot WA

Barry Lockwood

WATCH THE CAT

R1

Eagle Farm QLD

Lindsay Hatch

PAPA JO

R4

Eagle Farm QLD

Garnett Taylor

BOLD STYLE

R6

Eagle Farm QLD

Kendrick Racing Stables

STAR OF MICHELIN

R7

Eagle Farm QLD

Robbie Griffiths

GLENFIDDICH

R1

Mornington VIC

Jon O'connor

GREAT LEVELLER

R1

Morphettville Parks SA

Richard Jolly

POYSED TO REIN

R2

Morphettville Parks SA

Peter and Paul Snowden

CALIFORNIA ZIMBOL

R1

Rosehill Gardens NSW - LR DARBY MUNRO STAKES

John P Thompson

DREAMFORCE

R5

Rosehill Gardens NSW - GR1 GEORGE RYDER STAKES




Ben Ahrens

LUCKY FIX

R4

Gatton QLD

Tom Button

GYPSY TOFF

R6

Gold Coast QLD

Jamie Edwards

MUTANAASEQ

R1

Avoca VIC

Jamie Edwards

HONEY MAGIC

R6

Avoca VIC

Slade Bloodstock

CLAP CHAP

R9

Avoca VIC

Stephen Lee

LUVYOULONGTIME

R2

Casino NSW

Joe Cleary

OLIVER SKOONA

R2

Queanbeyan NSW

Luke Pepper

TICKED OFF

R6

Queanbeyan NSW

Brett Crawford

HEAVEN'S EMBRACE

R5

Durbanville SAF

Adam Marcus

WINTER SHADOW

R6

Durbanville SAF

Adam Marcus

AL'S MY DADDY

R7

Durbanville SAF

Sean Tarry

UPCLOSEANDPERSONAL

R1

Turffontein Standside SAF

Sean Tarry

DARK SONG

R4

Turffontein Standside SAF

Sean Tarry

AL MUTAWAKEL

R6

Turffontein Standside SAF

Sean Tarry

TOWARDS THE SUN

R9

Turffontein Standside SAF
Friday 20th March, 2020
| | | | |
| --- | --- | --- | --- |
| Shea Eden | ALSVIN | R1 | Moonee Valley VIC |
| Danny O'Brien | PARADEE | R6 | Moonee Valley VIC |
| Natalie Mccall | DEJANOVA | R1 | Sunshine Coast QLD |
| Darryl Hansen | FABULONH | R4 | Sunshine Coast QLD |
| Chris Munce | LUCKY JACKSON | R7 | Sunshine Coast QLD |
| Danny Williams | TALIHINA | R1 | Albury NSW |
| Keith Dryden | SHORES OF AVALON | R2 | Albury NSW |
| Laurel Oak Bloodstock | SHORES OF AVALON | R2 | Albury NSW |
| Mitchell Beer | BEZOS | R4 | Albury NSW |
| Trevor Sutherland | DEMANDING MO | R5 | Albury NSW |
| Ron Stubbs | SPUNLAGO | R7 | Albury NSW - LR ALBURY GOLD CUP |
| Mitchell Beer | MNEMENTH | R8 | Albury NSW |
| Jeremy Sylvester | TRUMPS IN | R1 | Port Macquarie NSW |
| Mark Minervini | CALIPARI | R4 | Port Macquarie NSW |
| Australian Bloodstock | MEYER | R7 | Port Macquarie NSW |
| Symon Wilde | AURORA'S SYMPHONY | R1 | Swan Hill VIC |
| Kym Hann | LATENIGHTTOUGHGUY | R2 | Swan Hill VIC |
| Austy Coffey | NOVA WAY | R6 | Swan Hill VIC |
| Austy Coffey | CASH AFFAIR | R8 | Swan Hill VIC |
| Dan Meagher | RED CLAW | R1 | Singapore SGP |
| Stephen Gray | LIM'S SPIN | R2 | Singapore SGP |
| Lee Freedman | MR ALEJANDRO | R3 | Singapore SGP |
| Dan Meagher | LIM'S SAMURAI | R7 | Singapore SGP |
| Lee Freedman | OCEAN CROSSING | R9 | Singapore SGP |
Thursday 19th March, 2020
| | | | |
| --- | --- | --- | --- |
| Peter and Paul Snowden | PENANG | R1 | Newcastle NSW |
| David Harrison | FUEL THE FRIAR | R2 | Pinjarra Park WA |
| Keith Dryden | DIP ME LID | R2 | Albury NSW |
| Keith Dryden | EXPRESS COURIER | R4 | Albury NSW |
| Laurel Oak Bloodstock | EXPRESS COURIER | R4 | Albury NSW |
| Gary Colvin | BRAVADO LASS | R5 | Albury NSW |
| Norm Loy | ILOVESAKI | R7 | Albury NSW |
| Australian Bloodstock | LUNAKORN | R4 | Pakenham Park VIC |
| Eric Musgrove | THE BEDOUIN | R2 | Terang VIC |
| Patrick Payne | IDIDITFORLOVE | R3 | Terang VIC |
| Symon Wilde | DUECOURSE | R5 | Terang VIC |
| Patrick Payne | UPSWING | R7 | Terang VIC |
| Symon Wilde | KURIDALA | R8 | Terang VIC |
| Enver Jusufovic | VONGOLE | R7 | Pakenham Park VIC |
| Mike de Kock | RIQAABY | R3 | Turffontein Inside SAF |
| Mike de Kock | BASSAM | R10 | Turffontein Inside SAF |
Wednesday 18th March, 2020
| | | | |
| --- | --- | --- | --- |
| Robert and Todd Harvey | DIAMOND TRADE | R1 | Ascot WA |
| Gangemi Racing | IMA SINGLE MAN | R2 | Ascot WA |
| Kendrick Racing Stables | FASTNET CYCLONE | R3 | Doomben QLD |
| Kelly Schweida | ARTERIAL | R5 | Doomben QLD |
| Kirkup Racing | MR TINDALL | R3 | Launceston TAS |
| Scott Brunton | UBER ED | R8 | Launceston TAS |
| John P Thompson | GRAND PIANO | R6 | Kensington NSW |
| Wendy Kelly | OCEANIC DRIFT | R4 | Sandown Hillside VIC |
| Ken King Thoroughbreds | OCEANIC DRIFT | R4 | Sandown Hillside VIC |
| Danny O'Brien | SCIPIO | R5 | Sandown Hillside VIC |
| Grahame Begg | BEAUTY BOLT | R7 | Sandown Hillside VIC |
| John Sadler | BEEHUNTER | R8 | Sandown Hillside VIC |
| Wayne Francis and Glen Kent | HELPENY | R1 | Gawler SA |
| Leon Macdonald and Andrew Gluyas | GOLDIE GURU | R2 | Gawler SA |
| Byron Cozamanis | LISETTE | R3 | Gawler SA |
| Leon Macdonald and Andrew Gluyas | GUCCI GUY | R4 | Gawler SA |
| Brett Crawford | TREAD SWIFTLY | R1 | Hollywoodbets Greyville Polytrack SAF |
Tuesday 17th March, 2020
| | | | |
| --- | --- | --- | --- |
| Roy Rogers | LICKETY SPLIT | R6 | Albany WA |
| Richard Laming | THE GENERAL | R2 | Cranbourne VIC |
| Grahame Begg | GRACIAS AMIGO | R3 | Cranbourne VIC |
| Ron Leemon Racing | STREET ROGUE | R1 | Mackay QLD |
Monday 16th March, 2020
| | | | |
| --- | --- | --- | --- |
| Robert and Luke Price | SHOW TICKETS | R4 | Moruya NSW |
| Robert and Luke Price | ALL TIARA | R5 | Moruya NSW |
| Cameron Crockett | STEP ON FIRE | R4 | Scone NSW |