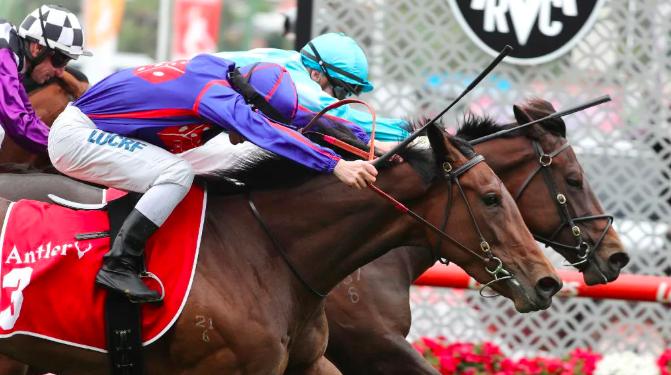 LA FALAISE has amazing dead-heat win in 2019 Fillies Classic for Roll The Dice Racing & Connections
Cox Plate Day at The Valley was run over by success from the miStable clients most notably when CHIEF IRONSIDE claimed the Crystal Mile to the delight of Australian Bloodstock and connections while John Sadler also notched up a thrilling win with SARTORIAL SPLENDOR in the Red Anchor Stakes.

Roll The Dice Racing had to share the spoils, there was no taking the smiles off the faces of connections of LA FALAISE who was equally as powerful as Fascino to dead-heat in the Fillies Classic. Another horse who keeps raising the bar is homebred gelding FINE DANE from the John Moloney stable who was too classy and speedy over the 955 metres while Mitchell Freedman notched another stakes win, this time with BROADWAYANDFOURTH in the Crockett Stakes after a Ballarat maiden win. A job well done to Ken Keys also on the success of SOUL PATCH in the Moonee Valley Vase.

Rinse and repeat, there was more success for Steve ODea/Proven Thoroughbreds/Steph Thornton who each and every Saturday are getting winners and this time it was with MISSED THE ALARM at Eagle Farm. Kelly Schweida followed in their footsteps in the following race when CELLARMAID made for happy punters with the filly going back-to-back with an impressive three length win.

Success in Adelaide came in a double dose for Richard and Chantelle Jolly after IRISH MINT and RAINMOTH were both partnered by Jake Toeroek to victory giving the stable a double. Meanwhile it was DANGER DEAL back in the winners stall fresh for Leon Macdonald and Andrew Gluyas.

Congratulations to Neville Parnham in Perth who got the consistent SCINTILLATING back into winning form thanks so to a gem of a ride from son Chris. David Harrison scored a superb win with JERICHO MISSILE in the Belgravia Stakes and Jim Taylor claimed a winner with LORENTINIO. In the Northern Territory it was Gary Clarke doing what he does best after PATRIOT DAY notched another Darwin win as did Dick Leech with MORE CHILLI.

Racing on Friday at Canberra was dominated by Keith Dryden with a double after GUNGA DIN and HEAVEN ON EARTH claimed the final two races while CALESCENT and Matthew Dale also found the winners list. Fast forward to Sunday and Scott Brunton was enjoying Launceston success with SKY FOX.

Well done to all our overseas winning trainers; Glen Kotzen, Adam Marcus, Mike de Kock, Sean Tarry and Brett Crawford in South Africa, Dan Meagher in Singapore and Graham Richardson in New Zealand.

Bring on Derby Day!