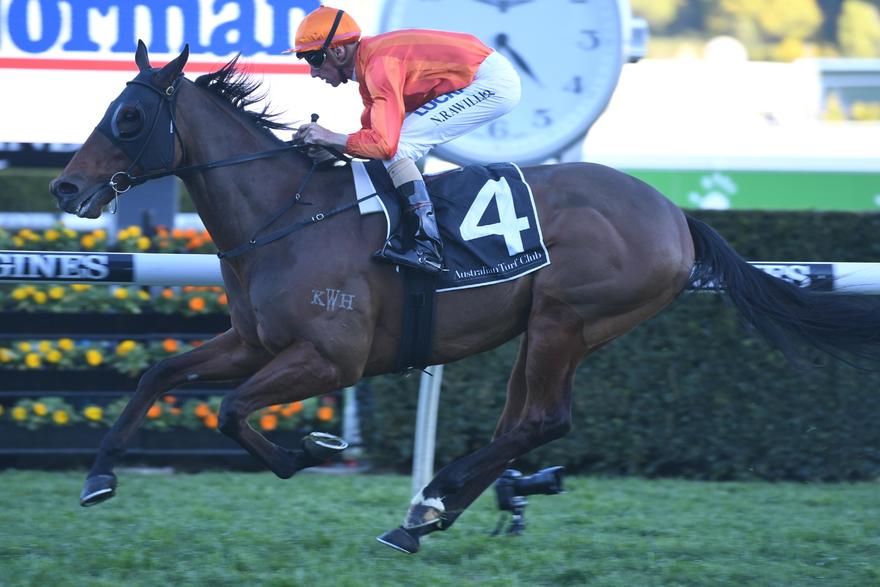 DREAMFORCE claims dominant win in Group 2 Tramway Stakes for John Thompson Racing
We love nothing more than two of our clients teaming up and Steven Odea and Proven Thoroughbreds did that in a big way at Eagle Farm on Saturday. The black and green spots saluted on three occasions, twice under Stephanie Thornton when RECKLESS CHOICE and SIENNA ROSE both came from well back to score. Short priced favourite backers were also happy when Matthew McGillivray got the best out of SCALLOPINI to score.

He really is a true marvel and it was Snowden Racings REDZEL who reminded everyone just how good he is when taking out a much anticipated Concorde Stakes when beating his younger rivals while Darby Racing claimed a fantastic couple of wins with SAMADOUBT and CONSTANT FLIGHT. Laurel Oak Bloodstock didnt disappoint when PICARO scored a magnificent win.

Those fans of DREAMFORCE had little to worry about when taking out New Zealand gun Te Akau Shark in the Tramway for the John Thompson galloper while Australian Bloodstock got the best out of ARTICUS at any old price in the last.

Tasmanian horses keep cleaning up in Victoria and it wont be the last time THE INEVITABLE is winning stakes races after Scott Bruntons star bolted in by four lengths and made it two straight wins, this time at The Valley, for the pint sized galloper. Speaking of Tasmania, well done to Adam Trinder who prepared DOTHRAKI PRINCESS to back-to-back wins on Sunday while our friends at Roll The Dice gave Ocean Park gelding OCEAN ESSENCE the best possible start to her Tasmanian career.

Over in the west it was Neville Parnham kicking goals with son Brad after GUNS OF NAVARONE won first-up from a spell at odds of 20/1 while Pope Racing scored well with WITNESS IN COURT. In Adelaide Richard and Chantelle Jolly combined with KEMALPASA who has now won six of his 19 starts and Eric Musgrove came in for a win with YOUL DASH FOR CASH.

There was also more success in the Northern Territory for Neil Dyer who had a training double when RUTHS BOY and MARYMOUNT LASS both saluted.

Job well done to Keith Dryden who on Friday in Canberra also had a double with SWEET KNUCKLE and HEAVEN ON EARTH.

Congratulations also to all our overseas winning trainers; Sean Tarry, Mike de Kock, Brett Crawford and Glen Kotzen in South Africa, Fraser J Auret (GR LR Hs Dyke Wanganui Guineas) in New Zealand, Douglas Whyte in Hong Kong.

Photo: Steve Hart